As part of an expansion, opening 17 new global routes in 2011, including Cape Town, Buenos Aires and Xiamen, the Manchester Airport branch of KLM-Air France-Delta, hosted an event and trade show, held in the prestigious heights of Cloud 23 bar of the Manchester Hilton Hotel building to which they invited Drumroots to deliver rather special performance…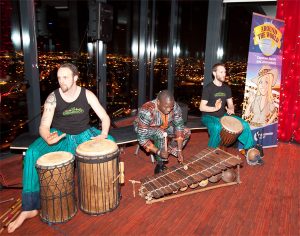 Unlike our usual highly energetic and often very loud drumming performances, for this event we brought something with a rather more gentle ambience to suit the social occasion. There to serenade the guests on their arrival to the event, Tanante members teamed up to perform with our friend and world class musician, Sidiki Dembele from The Ivory Coast.
Sidiki is a performer of the highest experience and calibre, with a vast musical repertoire; he is not only one of the country's top djembe players but also can play a plethora of other traditional African Instruments. Fitting the bill today and fronting a trio in an exquisite performance, singing traditional African songs while playing ngoni (African harp) and balafon (xylophone) along with percussive accompaniment by Tanante.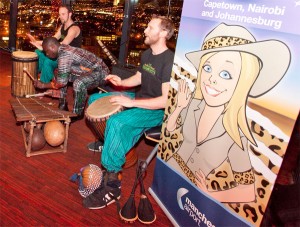 Follow this link to listen to a sample track from Sidiki Dembele's upcoming album.
Though we're less well known for our quieter, background musical performances, if you have an event or wedding where you'd like something a little different, don't call in a string quartet; give Drumroots a call! We're not just an all singing, dancing stage performance group but also offer calming, non-invasive background music to help produce special ambience at any event.