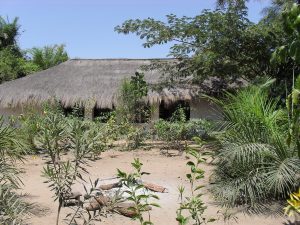 Just a quick note to say that we the Drumroots team are back from an all too brief stay and bit training time in Senegal. We returned again to the southern region of Cassamance to stay at our second home; Touba Kabira, the beautiful guest house in Abene belonging to our good friend and Tanante dancer Sens Sagna. Here we fitted in as much time as we could to study with our teacher Sipa (Mohammed Sylla) and his group Wassalon. We've stayed here many times now, never fail to have a good time and feel well looked after and always look forward to returning.
Ever dreamt of traveling to West Arica to staying this beautiful region? Here you can either learn djembe music (with our highly recommended teacher, Sipa), or the study traditional drumming of that region, Segrouba or even simply to escape to the jungle to relax this idyllic Atlantic beach town. You might also be interested to see the infamous Abene festival, if so why not step just outside the main centre of Abene and stay at Touba Kabira?
Anyone interested in anything that Abene has to offer, please feel free to get in touch and we'll either do our best to help or put you in touch with our friends over there.
Here's a video from our recent stay of just one of the few pieces we've learnt, hope you enjoy! (Keep an eye on our Youtube channel for more video's coming soon).