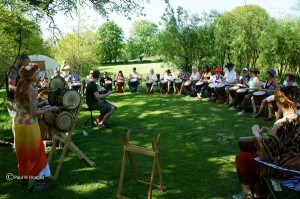 It's taken a good few days to find the time to do a write up of this event, but the happy memories are as clear as yesterday as this weekend was something special. For some time,  the Drumroots team have contemplated the idea of  putting together a weekend away in a beautiful place, centred around West African drumming education and performance, but have never enough  drive to get it together. Our friends at
Kontaani
, based in Macclesfield have shown us how it's done! Kontaani are a collection of drummers who play African drums, mostly in the picturesque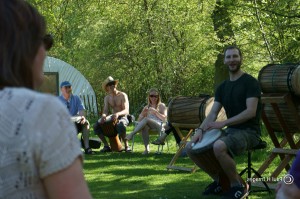 village hall of Langley in the hills above Mac. Their regular sessions include open workshops for all and also a hardworking and very close performance drumming band, both of which us Drumroots guys have had the pleasure of working with. Thus it was with great excitement that we received the news that the Kontaani team where arranging this weekend of drumming, and furthermore we were delighted and very flattered to learn that the Drumroots team and our performance group Tanante, were being invited to run the workshops and to do a performance.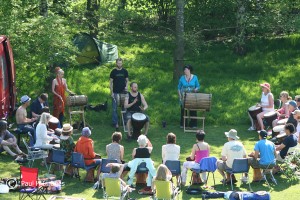 The long weekend's events, held at the handsome
Stanely Head Outdoor Centre
, were blessed with the best weather anyone could wish for and kicked off on Friday afternoon with a meet and greet workshop for all. Though we already knew many of the people present, there were a few new faces so we all got together in the shade of the lower field and got playing! It was clear from this point, judging by our warm welcome, and the enthusiasm and excitement of all involved that everyone was up for a good time . After the opening workshop and a bite to eat, it was time to assemble for an open fireside jam and social. Here we got to know our companions for the weekend a little better and were able to join in a Kontaan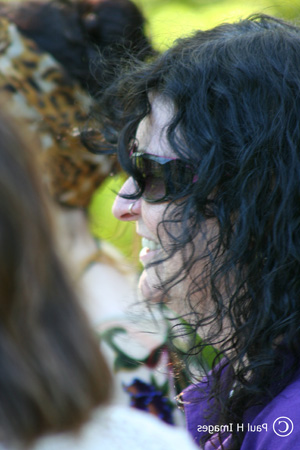 i style jam. Saturday morning was time for some 'serious' (!) workshops starting with a beginners/intermediate session lead by me (Beej), which was extremely well received by all drummers who, though seeming initially unsure of what they were being asked to do at first, eventually completed rather complex arrangement with introduction, breaks, a song and even a little improvised soloing. Throughout the workshop we were encouraged with whoops and cheers from those not participating in the class, some of whom were helmeted and harnessed, high up in the  outdoor centre's high wire course. The day progressed into the more advanced class lead by Jamie, who pushed even the most focussed of djembe players though a fast paced and testing workshop. During this advanced class Marie and our Tess ran a women's only workshop, and though I know nothing about it (because A:- I was busy, B:-Didn't qualify), heard only glowing praise for. We hope that our mixture of classes gave something for all to get their teeth into and that all participants enjoyed them as much as we did.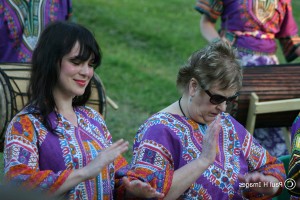 The workshops for the day over it was time to get ready for performance, so the Drumroots workshop team packed up and left site. An hour down the road, we met the rest of Tanante along with our good friends and guest African Artists
Sens Sagna
and
Iya Sako
. Our point of meeting in mid Shropshire was to convene for a
private wedding event
where we got straight onto unloading the gear, costuming up and doing the business, and, with no rest or time to pause, we packed up and headed back to back to Stanley Head with the wind in our sails, the deadline; Kontaani Drumming Group's fireside performance. We got back in the nick of time to catch the pro Kontaani guys setting up in the sunset light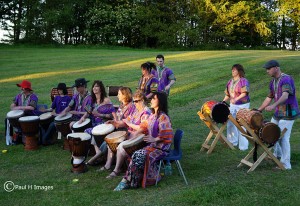 for their gig. We have a certain sentimental attachment to this group; we've spent a lot of time with them in their practice sessions helping and training the group, and doing our best to add to their fantastic performance repertoire. Furthermore, they are an ace group of people who really enjoy this music, have a strong togetherness and work very hard at their set. This was this was the first time we saw them play out live, and they were just great. The  positive vibes they project were so genuine and it was exciting to see their performance pieces we've never heard before and something extra special to hear them play the ones we've helped them arrange.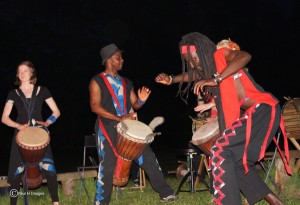 Next up it was our turn and as the night (and the biting midges) was closing in, we set up near the fire and got on it. Now, there are gigs which go well, and we always have fun in our performances, but this was something else! I feel that the joy and gratification that can be met through delivering a musical performance can be so very much  affected by how it is received by an audience; every person watching gave back equal or even more energy as we put out and the gig was a total buzz as we all got together played, moved and sang. We played solid, Sens rose to the occasion absorbing the vibes, putting on a real show of energetic dance, encouraging all to join in and even leaping over the fire! As ever Iya Sako played his djembe solo for any and all dancers with his matchless power, clarity and precision.  No more words can describe……check out the pictures…. it was great. The music ended there for the night, but the party went on long into the small h
ours. For Sunday morning we were all allowed a lie in and a late breakfast before heading down the bottom field one last time for a final workshop/jam. Here we Drumroots guys facilitated the session but did no teaching rather just had fun together with drums, played a few games, jammed and enjoyed our last moment together in this excellent place. The session was capped with a few choice words by those responsible for bringing this event together. We at Drumroots and on behalf of all of Tanante was to say a massive thank you to everyone to came along, participated in our sessions or just hung out by the fire with us. We were made to feel very welcome and looked after. Especial thanks and congrats got the Kontaani Band (we think you're ace!), to all those involved in organising the weekend, Paul H for taking smashing photot's, and most of all to Marie Millward. Just as someone else has already said; When's the next one!? Here's a couple of videos for your eyes.