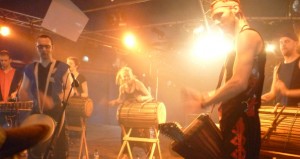 The Beat-Herder is our favourite festival of the year and is always a good party! Set in the beautiful Ribble valley near Clitheroe, some ten thousand or so revellers and festival goers descend onto The Beat-Herder site for a weekend of fun, dancing, DJ's and of course live music (….and on this occasion MUD!). The weather this year was rather unkind with rain storms throughout the whole weekend, however this set back would do nothing to dampen the spirits of the festival goers who were up for a party no matter what!Our good friends of the mighty Stumblefunk sound system and DrumMusic collective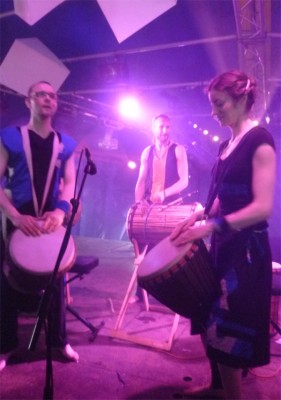 were responsible for running one of the main tents at the festival, and as ever our performance group Tanante were invited back, this year to play on the Saturday night.
We loaded our gear onto the stage as the DJ before us finished off his excellent set and we could see from there that the crowd were in good form and already buzzing.
With a combination of some our fans, and of festival goers who have never seen a group such as ours, plus the smooth transition from one set to another via slick organisation from the Stumblefunk team meant that there was no time for any of the crowd to go wandering and the tent was packed as we got going on our set. It was already exciting to play for such a rocking audience but we had an extra level of excitement as this was our first full stage performance with our latest band member Andy Garvey who has taken the group up a gear with the addition of his skills on the Balafon (African Xylophone). We had been working hard in the build-up to the festival to integrate this instrument into our set andthe reaction from the crowd and overall effect was immediately apparent as the audience appreciated the melodious overtones to our normally, percussion only stage act.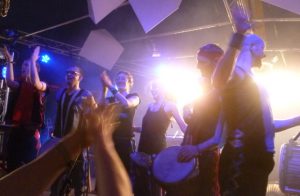 Our group enjoyed this performance so much and it was all due to the fantastic vibes being given to us by the audience; so many smiling faces and good energies for us to feed off and make us produce one of the best stage acts to date.
Massive thanks go out to everyone involved in organising Beat Herder festival, especially to those who ran the Stumblefunk tent; well done for yet another amazing year!