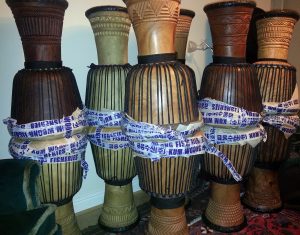 Drumroots are proud to introduce our brand new djembe range for Autumn 2013. We are exceptionally excited to add to our range with some exciting new styles of djembes, made from a range of African woods. As well as our top of the range and renowned Lye Konate (LK: infamous Guinean djembe carver) Lenke djembes, we have now introduced some exceptionally beautiful Harre (Balafon Wood) and Djalla (Red Wood) djembes. All these drums are made of top quality hardwood, LK carved and have been skinned with supreme skill and attention to detail.
Furthermore, we have brought in a batch of drums aimed at those either on a bit of a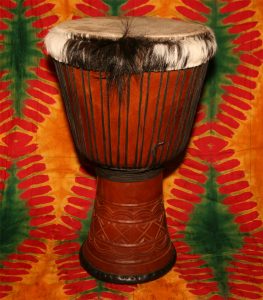 budget or those looking for a lighter than average but who still want a quality, authentic Guinean djembe; our new Dundun wood (Bois Blanche) djembes. All these drums have a classic Guinea shape, are carved by Lye Konate and can be tuned up to gain a bright and djembe solo ready sound!
As well as djembes we have also got new Krin (Log Drums), Bell sets (Cloche) and as ever keep up stocks of top quality African goat skins, this time in a choice between lime treated for no hair or untreated hairy skins. Skins can be sold individually in person or mail ordered, or alternatively if you're looking for us to re-skin you djembe, we offer one of the best re-skinning services available to help you get the very best sound quality out of your favourite drum.
All djembes and other stock can be viewed, tested and demonstrated with a personal attention to detail and customer requirements. Alternately if you're a little too far away to pay us a visit (in Manchester), we can send you exact instrument details, dimensions and weights to give you the very best chance of finding your perfect new drum. Once decisions have been made (sometimes a very difficult process!) we can mail order out your new djembe with our fast and reliable courier service. Don't forget that we sell the very best Protection Racket drum bags.
Please get in touch for more details or to arrange a personal drum test.