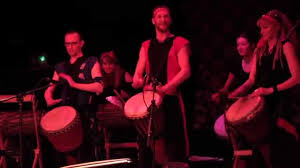 It's less than two weeks until The New Generations tour and the excitement amongst our performance troupe is really starting to build up for this awesome weekend of music and dance! We've been working hard perfecting material that we learnt during our recent trip to West Africa and happy to see faces old and new in the group coming together to create an amazing performance.
We're particularly excited to have the opportunity to invite some world class percussionists on to the stage for our evening performance on the Saturday night (2nd of May). Our close friends and associated guest artists Iya Sako, Sidiki Dembele and Seckou Keita will be joining us as well as the stars of the weekend Famadou's son Billy Konate and Mamady Keita's prodigy Babara Bangoura Fakoly. Each of these astounding Djembe Folas will be invited to play on a rhythm suited to their style and background to make an incredible and authentic showcase.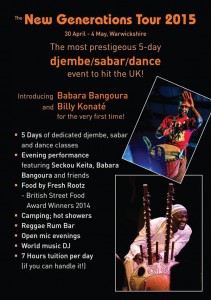 The whole event is spread over five days and will bring amazing workshops for djembe, sabar and African dance led by exceptionally talented, world class artists. Tanante members are not only performing on the Saturday night but some of us will be supporting a selection of these workshops by playing the dun-dun (bass drums) and leading our own guided jam sessions giving people an opportunity to play and learn outside of the daytime workshop settings.
Also on site there will be a world foods company, a reggae and rum bar and an African goods stall.
This is truly an event not to be missed if ever there was one, a rare chance to see some of the best djembe players in the world all in the UK for one spectacular event! There are still full five day tickets and weekend tickets available, don't miss out- buy your ticket now!
Lets hope the weather stays hot!! See you there!
Tanante x