Tag Archives:
Special Virtuosi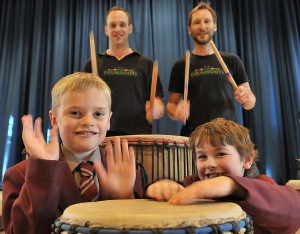 Drumroots team recently enjoyed a day at the wonderful Altringham Preparatory School for Boys. Running exceptionally large classes with children can at times be a challenge but not with this group of attentive young people! The groups of fifty odd enthusiastic and eager participants had a real buzz about them as we got into the sessions, and they gave us really excellent attention and energy. From time to time the sessions were visited by various members of school staff, including the head teacher and some of the school governors who were all drawn to space to observe the enjoyment that the children were taking from the session and the positivity and joy they were putting back in.
(more…)

Last night we were invited to run a one off workshop with
Special Virtuosi;
a music group which was set up in December 2006 to provide music provision to people with special needs. The group of some twenty or so participants were very welcoming and excited to get into some drumming as we met at
Royal Northern College of Music
, a place we've worked many times before and where we're always happy to return to. The students, being of a broad age range and their individual special needs so mixed, we felt that our job was of course to run a drumming workshop for all to enjoy, and as ever to interact through music, however, here we focused particularly on building a good energy in the room so as to be inclusive of everybody, regardles of ability, and so that eveyone could get in to, feel and experience the music.
(more…)