Tag Archives:
The festival of the Nile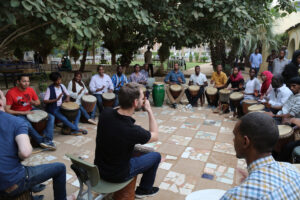 Early in the autumn, The British Council
in Sudan asked Drumroots to be a part of The Festival of the Nile. West Africa has been so successful in popularising it's traditional music around the world and our friend from the British Council, Mustafa, wanted to use this success as an inspiring example to encourage the youth of Sudan to engage with their cultural roots. Although we knew that we would be performing and leading workshops to celebrate traditional African music, little did we know what incredible experiences were in store for us during the week ahead.