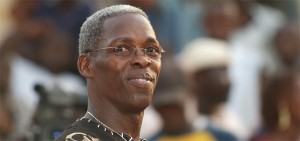 Due to the sad news that Mamady Keita was hospitalised though complications surrounding his known congestive heart disease, the MK2012 weekender has been entirely canceled, including the evening performance programme with Tanante with Iya Sako.
Like everyone we are very sad and shocked by this news and also disappointed that it cannot go ahead. Our thoughts and wishes are with Mamady, and hope he has a speedy recovery. Thanks to Djembeschool and all involved for organising the weekend and bad luck that all your efforts were thwarted by the affliction. We hope that you're not dispirited and re-organise the event when Mamady returns to good health.

To read more about Mamady Keita's condition and future plans, read on or follow the link.
From the Tamtam Mandeng website.
Mamady Health Update & Medical Donation Fund
February 10, 2012: As some of you know, Mamady was recently hospitalized in France with pulmonary edema, a serious condition of accumulated fluid in the lungs, which is one of the health issues brought on by his congestive heart disease. We are happy to report that he is doing very well and was released from the hospital early this week. He is chilling out for the month of February in Brussels as his doctors advised him and planning to return home to San Diego in early March. Mamady wants everyone to know that he is feeling much better and is following doctors' orders to rest and regain his strength.  He intends to resume his workshop schedule in San Diego in mid-March thru April and then begin the Grand Masters Tour with Famoudou Konate in May.