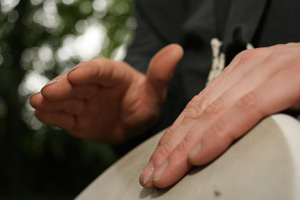 Last night we delivered our first independent 'Solo for the terrified' workshop outside the festival circuit. The idea and title of this style of workshop was coined by the organisers of African Beats Camp festival; since then we've been leading them at the drumming festivals for the last few years. Observing how successful and popular they have been, and having received excellent feedback from many people who have participated; it is clear that djembe players and aspiring soloists all over the place could potentially benefit from these workshops.
Having decided to run our own class, we chose our regular venue of The Royal Oak pub in Chorlton for its friendly, helpful staff, confortable function room with excellent acoustics.  With only a rough idea of who and how many people might attend, we were pleased with a good turnout of twenty odd people, the majority of whom can from outside Manchester. The session went really well with the initial nervous energy in the room being slowly broken down as all participants faced their fear, stepped into their power and eventually, fuelled by encouragement and cheering on from the rest of the group, produced part taught, part improvised djembe solos, including 'en chauffements', call outs and djembe to dundun interactions.
We all enjoyed the workshop massively and are extremely pleased with how much all the other participants seemed to enjoy themselves and benefit from it too.
Big thanks to all them attended, our friends Maire and the Kontaani group who turned up on mass, and an extra big thank you to Jonny Hodgkinson and Sebastian Labays for supporting on the dunduns and helping holding it all together.
Our next 'one off' workshop will be an 'Advanced African Drumming Workshop' in the same place on Thursday 1st September. Keep an eye on the workshops page for more special drumming workshops coming soon.