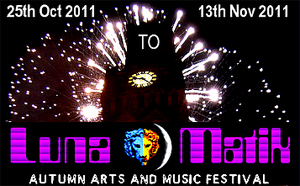 Drumroots are proud to announce that our upcoming Drumroots Live! (28/10/11) is now included in the LunaMatik Festival 2011. LunaMatik is the exciting all-encompassing seasonal arts, music, science and food festival happening in towns, cities and villages across the North of England from the 25th of October to the 13th of November 2011. Taking place from the New Moon to the Full Moon, guided by Planet Earth's humble satellite, LunaMatik Festival takes in the entire spectrum of creativity, from the more offbeat and creative halloween events through to ghost hunts and walks, gigs, concerts, raves, world music, dub, cookery, folk singalongs, craft workshops and art classes…
Don Bones, Volunteer Marketing Co-ordinator for the not-for-profit LunaMatik Music & Arts Festival had this to say about Drumroots Live!
'This event is a welcome addition into LunaMatik 2011! Drumroots are champions of vibrant, international world music, showcasing lively, upbeat African music from a variety of countries, guaranteed to make you want to feel good, and get up and dance! And it's all for such a wonderful cause. Pencil the event into your diaries, and make sure you do not miss this rare opportunity to see these legendary artists performing together.'
Drumroots Live! is listed on the Manchester page of the LunaMatik's site as one of many amazing events going on though out the north of England; visit the site and fine other special events in your area!


We thank the Don Bones and the LunaMatik team for inviting us on aboard, are sure to represent the LunaMatik festival with an explosive live music event and look forward to working with them in the future.