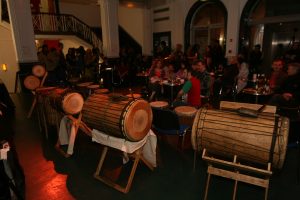 We have now completed our six week African drumming course at The Zion Arts Centre! The course was oversubscribed with enthusiastic students of a very broad range of experience and ability. This presented us with one of the most challenging but eventually rewarding courses we have ever run. With a combination of hard work by our students, and us carefully selecting the pieces we chose to teach, as well as how far to push our students, and putting them on parts where they seemed most suited and comfortable; the music progressed well and eventually we ended up a tight and polished performance group just in time!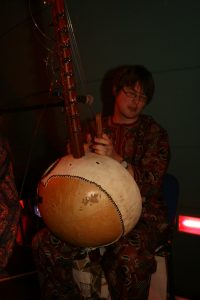 The pressure was on as the course was always geared up to get the group ready for a performance showcase in one of the many performance spaces in the fantastic Zion Arts Centre building. With this in mind our group worked extremely hard in the relatively short space of time to get ready.
The performance event ran like a dream. The Zion staff as ever were on hand to help us get ready and set up. For the first act we were lucky enough to have good friends and musicians, appearing together live for the first time as a Kora (African harp) Duo; Holly Marland and Jonny Hodgekinson. Their performance got the night going and laid a wonderful ambience in the space as our guest's, and the friends and family of the course participant arrived to witness this event.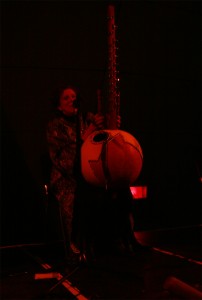 Next up, and with plenty of nerves from our participating students, it was the turn of the workshop group. The result was fantastic with the group performing all three of the fairly complex arrangements that we had taught without a single hitch, putting out a high energy performance, turning all those nerves into buzz and precipitating some rather wild dancing by audience members!
Last of all, to cap the night off and to give the students a chance to unwind and enjoy the some music from a spectator's point of view was our very own performance group, Tanante with dancing guest artist, Sens Sanga. It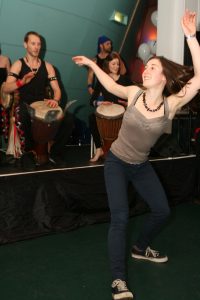 had been a while since we last played out and the first time we'd appeared in full force with our newest band member, Anna. The set went as well as we could have hoped and with the excellent energy, singing and cheers from the audience, and finally with a little encouragement it all went off with dancing and partying aplenty making it a joy to perform and a night to remember.
A massive thanks goes out to The Zion Arts Centre for hosting the event and all the staff for being so very helpful, but even bigger thanks goes out to our students who joined the course and played so well, we hope you enjoyed it as much as we did.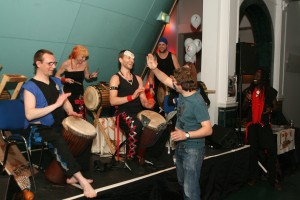 Please keep an eye on the website for more performances and drumming courses coming very soon. In the meantime, for you regular drumming fix we're of course running our regular Tuesday night drop-in classes.