The Drumroots team recently enjoyed a day leading African drumming workshops at the wonderful Clifton primary school. We started the day with an interactive performance for the whole school, encouraging the audience to join in with singing and clapping. We then proceeded to work our way through each class starting with the very young children in reception.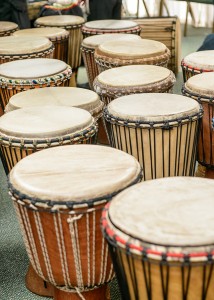 Running a large amount of African djembe drumming workshops throughout the day with school children can at times be a challenge, but not with the attentive young people from Clifton Primary school! The sessions of thirty odd enthusiastic and eager participants had a real buzz about them as we got into the drumming, and they gave us really excellent attention and energy. Towards the end of the school day the older children in years five and six thoroughly impressed us with their ability to pick up the much more advanced African drumming rhythms and arrangements taught to them.
Big thanks to Mr Lovegreen for organising the day and to all the children for being fantastic drummers!