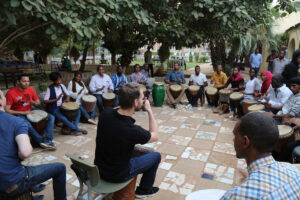 Early in the autumn, The British Council in Sudan asked Drumroots to be a part of The Festival of the Nile. West Africa has been so successful in popularising it's traditional music around the world and our friend from the British Council, Mustafa, wanted to use this success as an inspiring example to encourage the youth of Sudan to engage with their cultural roots. Although we knew that we would be performing and leading workshops to celebrate traditional African music, little did we know what incredible experiences were in store for us during the week ahead.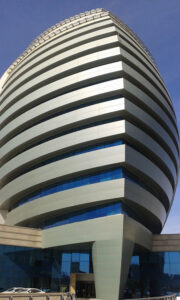 At 8am on the first day of a cold December, laden with a pile of drums and a heap of excitement, we (Jamie Riley, Andy Garvey & Iya Sako) left Manchester and began our journey to Sudan! Two flights and two car journeys later, at 4am local time, we arrived in Khartoum, the capital of Sudan, where we were welcomed into the five star, luxury hotel, The Corinthea. After a nice, long sleep in a deluxe, queen size bed, we awoke to find a spectacular view. From our rooms you could see the exact point where the Blue Nile and the White Nile meet to make the Great Nile. Where the two rivers meet in Khartoum,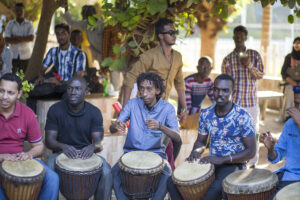 you can literally see the two colours running side by side until the point where they combine and head north through Sudan into Egypt.
Each day we were driven through Khartoum to a local college, where we ran a short course of West African drumming and dance workshops over three days, culminating in a workshop performance on the last night of the festival. The energy and enthusiasm from the students blew us away and within no time at all we had prepared a powerful set of rhythms packed with stage show arrangements, ready to amaze the audience. Jamie Riley taught the djembe workshops with the master, the one and only Iya Sako, playing djembe for dance with dundun support from Andy Garvey. No one that we know plays for dance better than Iya and to watch him do exactly what he does best was incredible!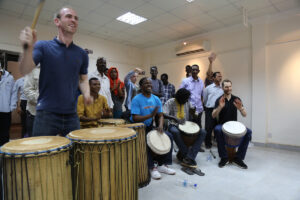 Another highlight was discovering a new shoulder twitching dance (which we think is going to be the next big dance craze!) performed by two amazing, traditional Ethiopian dancers! After it was all over, we struggled to say our goodbyes to the students, as we were left speechless by their overwhelming gratitude and appreciation.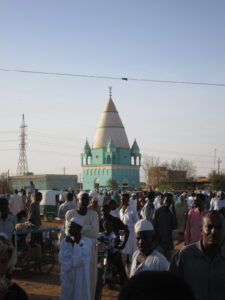 On our way to the first night of the festival, we stopped at a cemetery to watch a procession that happens every Friday, hosted by a group called the Dervish people, a spiritual cult of Islam. We witnessed an intriguing ceremony, during which a huge circle was formed around the spiritual leaders and many others parading around, whilst drummers and singers whipped everybody into a hypnotic state, as the entire crowd chanted 'Allah oh...'According to our guide and friend from the British Council, Dhalia, they believe that if you say Allah's name enough you can transcend to another spiritual plane. Witnessing this celebration was a unique and fascinating cultural experience for all of us.
Our trip culminated in two nights of performances, the first of which was held in the international park in Khartoum. Inside the arena, stalls filled the space, displaying local arts and crafts, local cuisine and an organisation celebrating Sudanese female entrepreneurs. Before we took to the stage, dancers from Ethiopia, Jordan and all corners of Sudan showed the audience some wonderful traditional art forms to celebrate the diversity in the city and at the festival. On a packed, outdoor stage full of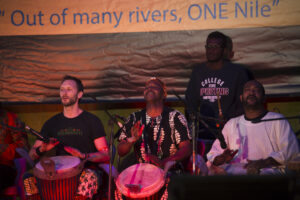 drumming and dance students, we showed off everything the group had learnt to a great reception! Bringing together rhythms and songs from Iya's traditions blended our stage show into something spectacular and unique. The dance troupe was particularly impressive to watch as after the choreographed pieces they all took it in turn to solo dance. Our gig went down an absolute storm and we also owe a massive thank you to our friends Mustafa and Shawgy for joining us on stage and supporting the show.
On the last day, we travelled to Wad Medani, a few hours from the capital, to perform in an outdoor theatre with a local Sudanese band. We opened the evening's entertainment, with the main slot being occupied by an artist called Nile, a contestant in the Middle East's version of the TV talent show, The Voice. The atmosphere was electric and we couldn't have had a more encouraging response from the audience. Everyone was clapping along, singing and cheering! It was a great set that finished with the local Sudanese band joining us on stage with their dancers and musicians for a very special finale. We also got up on stage to join Nile for his last number, but as he invited us to the stage the message got misunderstood and before we knew it half the audience were on stage taking photos and trying to join in! We were quickly ushered off into the dressing room and left through the back exit, with crowds of people clambering to take photos of us as we bundled into the car! For a moment we were practically celebrities!
It's safe to say that this was ultimately one of the most amazing cultural experiences any of us have ever had and a definite career high for the Drumroots team.
We were delighted that our host, Mustafa, noted that we had left a lasting legacy behind (along with a few Drumroots djembes!) inspiring more students to continue to be involved with djembe music and dance. The British Council have already discussed with us opportunities for next year and the possibility of similar trips to other countries! We want to say a massive thank you to Mustafa, Dhalia and Hashim at the British Council in Sudan for everything they did to get us there and the way their wonderful hospitality. We also want to say thank you to the Corinthea Hotel for sponsoring the festival and hosting us for the time we spent in Khartoum. The food was unbelievable and we were treated like royalty every minute we were there. Until next time, thank you Sudan!