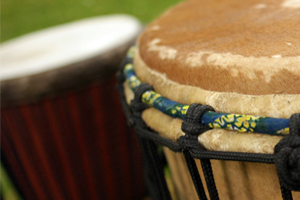 Last week we were happy to be returning with another special session at The Royal Oak Pub. This time for all of the more experienced players in Manchester and the surrounding area, we lead an 'Advanced Drumming workshop'.As ever, these classes are open to all and everyone but, assuming participants will have a higher level of experience, the focus moves away from the basic technique that we ordinarily cover in our introduction workshops, and straight onto more challenging djembe and dundun exercises, techniques, and then spending the majority of the time studying a traditional West African piece.
This time we chose to teach the rhythm 'Ballane'; a dance mask rhythm from the Hamana region of Guinea, belonging to a Malinke people. We lead the workshop through all full arrangements including an arranged break and song, and everyone had the opportunity to play djembe accompaniments and solo as well as learn all kenkeni, sangbang, and dundunba parts.
Big thanks to all who came along, here is a clip of us playing the same arrangement with our teacher Sipa earlier this year in Abene, Cassamance, Senegal. If anyone is interested in studying in Abene with Sipa. Please get in touch.