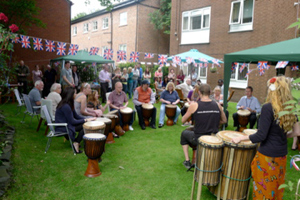 John and Theresa from the Drumroots team recently enjoyed running workshops for the people at Irwell Valley's, Morris Court, Fallowfield. The residents at Morris Court with care support on hand held a summer garden party and we at Drumroots were invited to provide some entertainment by bringing people together with a few short African Drumming sessions. As well as the residents and support workers based at Morris Court, also there were other local Irwell Valley staff and local MP John Leech (Liberal Democrat). At the event there was a barbeque, raffle and of course our workshops. The short drumming sessions where open to all and with a little encouragement all the seats in the drum circle where filled. Residents, staff and MP's alike all got involved in the drumming and seemed to thoroughly playing music together. We were extremely well looked after at the garden party and enjoyed the broad mixture of participants who joined in the workshops. Big thanks to Katie Martin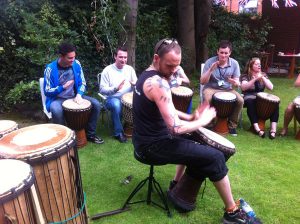 for getting in touch with us and for getting us along to be part of Morris court summer party.
To see what Irwell Valley had to say, Click Here!