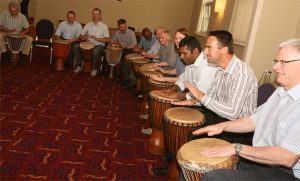 We recently enjoyed being a part team building event for the international company Bio-Rad. The annual meeting for the UK branch of Bio-Rad was hosted at the extremely luxurious setting of Shrigley Hall Hotel in Cheshire. We were brought in at the end of their first day of hard meetings and discussions to give the Bio-Rad staff some fun and interactive activities to help them relax and unwind. All the staff were keen and enthusiastic to get their teeth into the session. We had rather longer than unusual for corporate workshop and this enabled us to really take our time in introducing the staff on how to play a djembe, play games with their new found skill and eventually work up to a full piece of African music. There was a relaxed vibe in the room and towards the end of the session many of the group felt comfortable to show off a bit and try their hand at a bit of free style playing. Many of the group seemed to really enjoy the session and genuinely interested in us and our organisation.

Big thanks go out Damien at Bio-Rad for organising the workshop, all the staff whoattended our workshop and to the Shrigley Hall for tolerating the noise coming from the conference room!
To see more images from this workshops and other Drumroots go our Workshops Gallery Page.