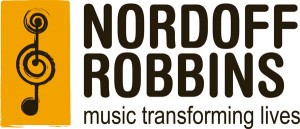 We at Drumroots were lucky enough to work with eight musically talented pupils on their masters degree training course with Nordoff Robbins. This mixed group were not only great musicians but great fun to be around. Over the course of four separate two hour sessions held in the Royal Northern College of Music studios we taught, as well as games and exercises, a number of different traditional rhythms with accompaniments, breaks, solos, songs and dun-dun bass lines. This developed their West African drum playing skills to a high level whilst teaching drum circle leadership.
We thoroughly enjoyed working with such an accomplished group of musicians who seemed to be really inspired, not just by the African music that we taught, but the possibilities of using the positive power of drumming in their own work.
Many thanks to all the Nordoff Roobbins students and the tutors.
Here below is some info on Nordoff Robbins. For more, visit their website to see the great work they do!
"WHO WE ARE…
Nordoff Robbins is a national music charity dedicated to transforming the lives of vulnerable children and adults across the UK.
We use music therapy and other music services to help a range of people with a range of challenges such as autism, dementia, mental health problems, stroke, brain injury, depression and life-threatening or terminal illnesses, such as cancer. All of the people we help have one uniting factor – music dramatically improves their quality of life.
We provide professional Masters training for music therapists, along with various short courses and workshops which are open to everyone interested in learning more about music and well-being.
Our Research work is building the evidence for music therapy and helps us inform and train the practitioners of the future.
We are part of an international network of Nordoff Robbins organisations all drawing inspiration from the innovative work of our founders Paul Nordoff and Clive Robbins.
No other organisation uses music to reach so many people, in so many contexts, with such consistently high levels of expertise. The power of music affects us all – through Nordoff Robbins it can transform lives."