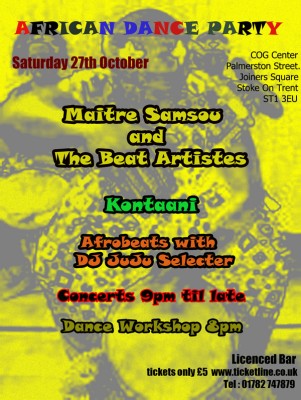 The Beat Artistes are back! With our African Drumming Master Samsou, we've been working hard over the summer in preparation for this event. Our new set raises the bar with heavy African rhythms, polished arrangements and choreographed dance moves. We're really looking forward to taking this practice public, and what better place to do it than at a happening new African Dance Party event.
Joining us for the event and on the bill will be the outstanding African Drumming troupe, Kontaani. This hard working collective from Macclesfield are incredible to watch and perform with awesome energy and good vibes.
There will also be an early evening dance workshop to kick things off and later on DJ's playing a range of quality African dance music.
Just to wet your appetite, here's a video of one of the Beat Artistes, featuring Iya Sako, recent performances at Manchester's Parklife festival. Watch the video then read on for details of the African Dance party, we'll see you there!
Date: 27th October 2012 20.00-24.00
Venue: The COG Center, Unit 4-5, Palmerston Street, Joiners Sqaure, Stoke on Trent, ST1 3EU View Google Map
Price: £5, http://www.ticketline.co.uk/african-dance-party#bio
For details: Davel Wooley; 07840941393
Facebook: Click here
AFRICAN DANCE PARTY is a collective of some of the best live African Bands and AfroBeat DJ's in The North of UK.
On 27th October 2012 we will be celebrating the end of Black History Month 2012 with a spectacular party in Stoke On Trent, Staffordshire.
Maitre Samsou is a remarkable talent, former teacher and director of the now legendary Les Ballets Africains, the international touring group of Guinea, West Africa.
At 8pm, he will be leading a dance workshop with "Jokeh" another one of our best imports, Jokeh has devoted all of her life to learning the beautiful art of West African Dance. The participants of this workshops will then join Maitre Samsou and The Beat Artistes for a performance later in the evening.
At 9pm the doors will open to the African sounds of DJ Raymond Crabtree and African food will be served.
At 9.45 we will be treated to the sounds of Kontaani, "probably the best community drumming project in the whole of the Uk", their spirit and enjoyment typify everything that is positive about African Music.
At 10.05 you will be treated to more of the best African Music with DJ Raymond Crabtree.
At 10.30 Maitre Samsou and The Beat Artistes, our headlining act for the evening, will share with you some of the finest music from West Africa, live and unplugged, full of energy and skill…….NOT TO BE MISSED !
What can I say about this DJ ? his passion has led him to research both West African and Jamaican music for some 7 years, selecting the very best tunes for our dancing pleasure…..I Cannot Wait !
We will be serving "cut price" drinks at our home made bar.
This is a ticket only event and we have limited numbers so be early to avoid disappointment. Its only a fiver !
Oh, and one last thing BRING YOUR DANCING SHOES !