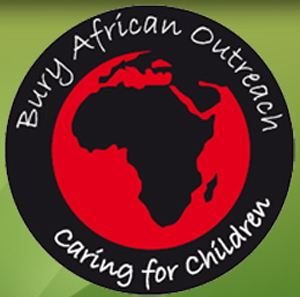 Drumroots were invited to St Gabriels high school for the Bury African outreach Charity coffee morning. Our job: to bring the space to life with our drumming, lead djembe workshops and to perform with the participants on the main stage. As we arrived we realised that this was no ordinary coffee morning but in fact Bury African outreach's 20th year anniversary, and a very busy fund raising event with activities such as wheel of fortune, tombola and many stalls selling all manner of things; African food, flowers, cakes, bric-a-brac and sweets, all to raise money with all proceeds going to the Bury African Outreach charity.
We started with a short drumming performance in the entrance hall to welcome people to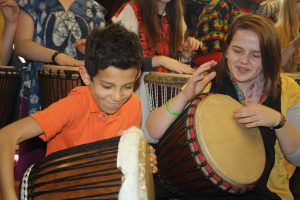 the event. Playing some traditional drumming rhythms and songs from Guinea and with it we lifted the energy in the space and drummed up some interest for the workshops too.
As we started the first workshop, we found to our surprise the students were already very good at drumming. We played some games and taught them about West African culture and the origins of the djembe drum before moving on to the main rhythm with three complex interlocking parts.
During our workshops a photographer from the Bury Times came and took photographs of us playing with the drumming students wearing our African tops. We then continued to practice for our big performance.
As the drums were being loaded onto the stage we caught the end of a fantastic pet show where all manner of furry creatures were being brought up onto the stage into a pet awards ceremony.
Now it was our turn. The stage was filled with the 30 drummers all colourfully dressed in our West African clothes and arranged into a giant semi-circle. We started with a song in the Mandinka language, played our introduction arrangement, and broke out into our main rhythm 'Balakulindja'. By this point, most of the audience were clapping and singing along. As the performance ended we thanked all the drummers for playing so well and remembering all the complex parts.
We were later told that this event raised £2500 for orphaned children in Uganda.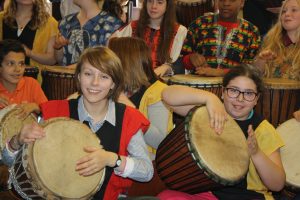 We at Drumroots were touched by everyone involved in the Bury African outreach charity but especially moved by Betsy Keating for her passion and commitment to helping to change the lives of some of the poorest people in East Africa specifically orphaned children in Uganda.
A huge thank you to Betsy and to all of our drummers from St Gabriels High school.