Last month the Drumroots team enjoyed a series of workshops with the patients of the mental health department of the Hollins Park Hospital. The Therapeutic Activities Team of the 5 Boroughs Partnership called us in to deliver our drumming workshops with the patients and to prepare them for a summer performance event at the end of the short course.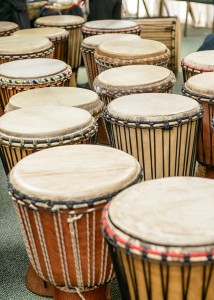 Over the sessions there was a gradual positive improvement in both the interest and skills gains by the workshop participants and as word got round the ward, more and more patients came to join in the sessions. By the time we reached the date for the end event the African drumming had become a popular activity.
For the end summer performance event we were blessed by the weather and so uncharacteristically of an English summer event, we were able to run the event outdoors! A great number of patients, staff from other wards and NHS bosses joined us for the event as we enjoyed a fantastic sunny drum circle.
Big thanks to the staff at Hollins Park Hospital, the patients who joined in the workshops and to all who came along to the summer performance event.