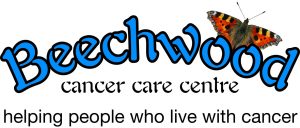 We have very much enjoyed our recent work for the
Beechwood Cancer Care group.
Based in Stockport, Beechwood Cancer Care is a charity who works to support both patients and all those who are affected by cancer, disease or loss. We have made two trips to the charity's HQ to deliver African drumming workshops is their peaceful and attractive garden space. On the first occasion we were invited to work with Beechwood, the workshop attendees were largely the bereaved families of those who have eventually lost their fight with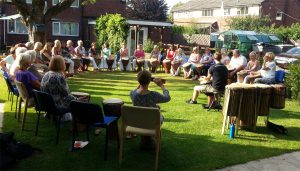 cancer. This mixed group who meet regularly, coming together to socialise and share stories and activities, were very excited and welcoming to us as we arrived and began to set up. We were lucky enough to have the weather on our side so were able to run the drumming workshop in the garden. The workshop attendees, as well as being very enthusiastic, were extra special to work with as they were of a very broad age range, Our first visit to Beechwood, having been such a success, we were invited to a second event this time only for staff. This was like a team building event with one very significant difference; it was a leaving party for a long standing Beechwood member of staff. Now we were known to some of the staff and embraced by all, the Beechwood team welcomed us to their barbeque before the session got going! Once again, and with some of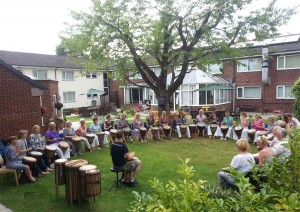 those in attendance now knowing the ropes, we were again blessed by the weather and got going with a drum circle in the garden that was full of humour, passion and fun. We feel exceptionally lucky to have been invited to work with this group and appreciate the opportunity to work with such a close and kindly group of people. Special thanks to Sophia Kariotaki for inviting us and to Claire Stableford for bringing us back for her leaving party. Please take the time to visit
Beechwood Cancer Care's website
to hear and see more of the great and very important work that they do. Also, take special note that they are a charity whose progress and continuation rely on the support, input and donations of those who have got it anything to offer.