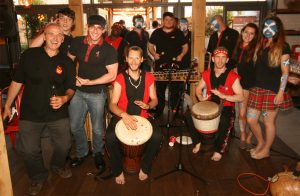 As part of our on-going working relationship with the Nando's family, we were recently invited to perform at their staff only event; The Nando's Grill Off. The event was the national final of a competition where by teams of Nando's staff compete with their colleagues from other restaurant branches to cook the very best grilled chicken. It seems to us that the Nando's staff really know how to have a good time! As they arrived, they all seemed in the mood for a fun evening, turning up with costume, props and even chants to support their own branch and designated cook who was to represent them on the grill. The prize was to travel to Sydney, Australia to complete in the Nando's international Grill Off! Our role of the evening was to provide entertainment. We performed intermittently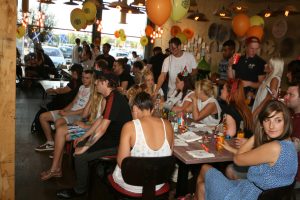 throughout the evening, dropping rhythms and songs to uplift the spirits of the team, spur them on as they took their turns to cook and to help them celebrate as the results were announced. Along with us for the evening was our friend and incredible musician from The Ivory Coast,
Sidiki Demeble
. Sidiki has a unique and extraordinary djembe style which he used to full effect in bringing African rhythm to the Nando's staff party. In the quieter moments of the party, Sidiki also performed on his African Harp (Ngoni) and sang traditional songs while accompanied by Tanante members on djembe, dunduns and xylophone (Balafon).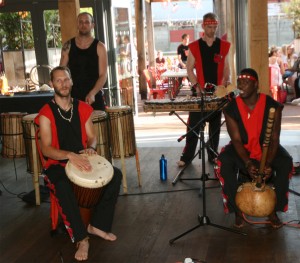 All the
Nando's
staff where friendly and welcoming, and as the evening progressed they got more into the music with chanting and dance…..they even took over our instruments for a time to give their own improvised jam. Big thanks to the Nando's team for having us along and to all the staff for being such a buzzing and fun bunch. Also, big thanks to performance specialists at
Gravity live
for arranging the performance booking.