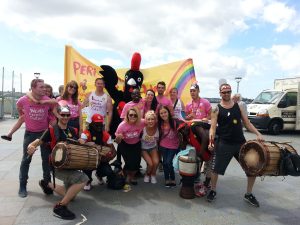 The Drumroots performance team with friends and guest artists recently enjoyed a succession of fantastic gigs at this summer's Pride festivals across the country. Once again working for
Nando's
we have so far been a part of Pride parades in Blackpool, Newcastle, Liverpool and Leeds. For these events we take to the streets carrying our drums for high energy walking performance to bring joy, rhythm and movement to the crowds of thousands joining in the carnival, and yet more as entertained bystanders. Accompanied by the enthusiastic Nandos staff bearing masks and banners, as well as a dancing chicken, we make quite a spectacle of ourselves as we get involved in the festivities. These events have the most wonderful vibe and energy, with an overall theme of inclusion and togetherness, and celebrating the acceptability of gay, bi-sexual, cross gender, straight and all kind of people in our community and promoting a friendly and embracing society. In the latter two events,
Liverpool
and
Leeds
(which were the biggest, loudest and best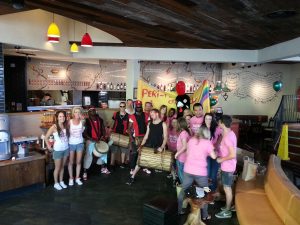 carnivals yet!) we were joined by our special friends and guest African artists; djembe player Sidiki Dembele and dancer Louis-Pierre Yonsian. We churned out banging crowd pleasing rhythms while Sidiki wowed the crowds with his exuberant djembe skills and performance prowess to the delight of the masses who attended! Massive thanks to all the Nando's staff who joined in the fun and as ever to
Gravity Live
entertainers for bring in Drumroots to perform at these special events. Click the links to see more of
Sidiki Dembele
and
Louis-Pierre Yonsian.