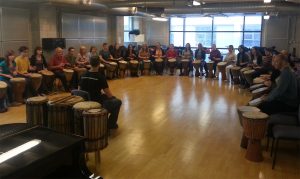 One of our regular and much valued clients,
Nordoff Robbins
invited us back to deliver an African drumming workshop and training session for their students. Nordoff Robbins are a charity based organisation who specialise in music therapy in order to make a positive difference to vulnerable children and adults. We have been selected to work with Nordoff Robbins regularly due to our extensive experience in working with people from challenging backgrounds, those with special needs and those to who would really benefit from the therapeutic qualities of playing music. Nordoff Robins students we worked with are in training to become musical therapists and are all very accomplished musicians in their own right, and so took to our workshop with great ease and enthusiasm. As well as teaching the usual djembe technique and introducing some African rhythms, we made a particular focus on sharing some of our experience on how to use music to communicate and correspond effectively with individuals who may otherwise struggle to do so. Though our work with the physically and mentally disabled (such as autism and Asperger's syndrome), socially excluded young people and those from challenging backgrounds, we feel that we have a wealth of knowledge to share. Working with a group of students such as the Nordoff Robbins group was extremely gratifying for us as they share a common passion for the use of music as a tool to make a positive difference to people's lives, and appeared to really appreciate our perspective and techniques. We sincerely hope that the Nordoff Robbins students enjoyed the session, felt that they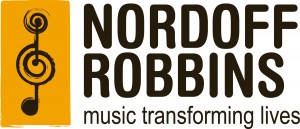 may be able to take something from our shared experiences and integrate them into their future work which we see as an essential practice in modern society. Thanks to all who took part in workshop, to those involved in booking us for the session and to the
Royal College of Music
for hosting the event.