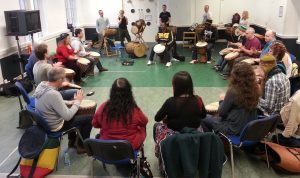 After the great success of our recent workshop, led by djembe player Iya Sako, we are back for the next installment.  Iya will return to The Z-Arts Centre in Manchester to be supported by the Drumroots team for a special African Djembe and Dundun class. For those who weren't at the last workshop or who have never attended an Iya Sako workshop, you really need to come along this time! Iya one of the country's top African drummers, and also is an encouraging and inspiring teacher.
Both Iya and our own djembe teacher, Jamie riley are currently away playing in the traditional festivals of Iya's homeland Guinea. There's no doubt that they'll return firing on all cylinders and ready to share the awesome power of African drumming with the rest of us here in the North of England!
This class required no prior booking, just turn up on the day. For those who want to show their support, communicate with other attendees and give us an idea of how many to expect, please join the Facebook Event.
Workshop Details:
Iya Sako Workshop @ Z-Arts | 15th February 2014 | 2 – 4pm
Date: 15th February 2014 | 2 – 4pm
Venue: Z-Arts, 335 Stretford Rd, Manchester, M15 5ZA
Price: £15
For details: John- 07941958444