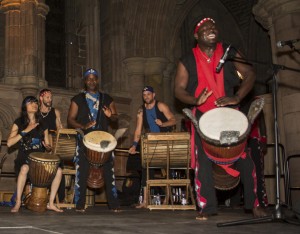 Have you ever wondered what it would be like to experience the power of West African drumming from within one of the country's most sacred and resonant spaces?
Well, on 26th September Tanante will be connecting music from the tribal communities of West Africa with the awesome acoustics of one of the North East's most spectacular landmarks; Hexham Abbey.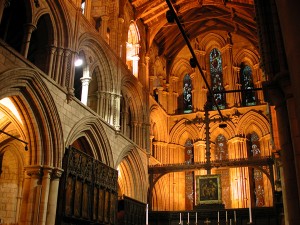 The week long music and arts festival, now in its 62nd year, hosts a diverse line up of acts, all performing to the Abbey's stunning architectural backdrop.
We will be treating our audience to a concert which combines the power and energy of djembe and dun dun drumming with the rich and melodic sounds of the n'goni (West African string instrument), Balafon (West Arfican xylophone), Flute,  and traditional West African songs.
Joining Tanante for this extra special event are some of the UK's leading West African artists including;
Guinean Djembe Master: Iya Sako, Ivorian 'Griot' musician and djembe Master: Sidiki Dembele, Guinean flautist: Babba Galle Kante, and Gambian Choreographer/ Dancer: Jokeh Sillah.
And that's not all…We'll also be drumming up a storm during the day for some of the local school children, who will be taking part in one of our uplifting and energising workshops.
Hope to see down there!
For tickets and further information about the festival, see the festival's website: http://www.hexhamabbey.org.uk/