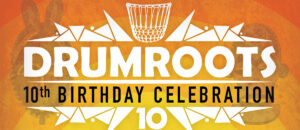 Drumroots presents a spectacular showcase of live, World music and drumming from diverse musical traditions to celebrate 10 years of Drumroots history.
SAT 16TH APRIL 2016, 7.30 – 1AM
ISLINGTON MILL, JAMES ST, SALFORD, M3 5HW
£10 TICKETS OTD
LINE UP:
TANANTE: http://www.drumroots.org.uk/african-drumming-performers.php
Fusing traditional rhythms and melodies from the village communities of West Africa, with modern drum and dance choreography, Tanante's powerful percussion, and infectious energy combine to create dynamic and interactive shows, which break down the barriers between audience and performers. This will be an extra special show including a whole host of guest drummers, dancers, singers and musicians including Jokeh Silla and the legendary master drummer Iya Sako.
JUBA DO LEÃO: www.jubadoleao.com
Inspired by the floor-shaking rhythms and vibrant dances of North-eastern Brazil, Juba do Leão take you on an enlightening tour of the intoxicating grooves of Brazil and beyond
JALLY SUNTOU SUSSO: Facebook –  jalysuntou.susso
Suntou is a Kora player from the Gambia, a member of the well-known Susso Griot family. The Kora, an African Harp, traditionally played to an audience of kings, will tonight be carrying 700 years of history and oral tradition to you.
KALAKUTA: Facebook –  kalakuta.mcr
Led by Fela Kuti's former 'Egypt 80's guitarist Emeka Elendu, Kalakuta are a diverse range of Manchester-based musicians creating a new modern Afrobeat sound. Combining elements of funk, jazz and hypnotic afro-grooves, this 17 piece band will guarantee to get the dancefloor moving.
DJ'S SIR ROBIN & PETE FIBRE:
Fine Afrobeat, reggae, world music and bass-heavy vinyl selections
MC RUFFMOUTH!:
Your MC for the night, Hip-hop legend, poet and lyricist –
To buy tickets for our events please visit: Skiddle.
Powered by: Skiddle Promotion Centre
*****************************************************************
Don't miss the daytime drumming and dance workshops:
10am -1pm Intermediate/Advanced Djembe/Dundun drumming workshop with Iya Sako
2pm -4pm All levels African dance with Jokeh Sillah