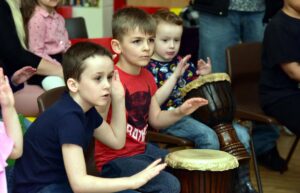 Ever wanted to come to one of our African drumming gigs but can't quite make it out until midnight? Well here is your opportunity to see us perform at 10 in the morning! Drumroots are proud to announce that we have been invited to Eatock primary school in Westhoughton, Bolton for their special African Beats launch event on Saturday 3rd February. We will be putting on an extra special performance with our professional drumming group 'Tanante'. Not only will Tanante be featuring Iya Sako our master drummer from Guinea but we will also be inviting a surprise special guest all the way from East Africa too!
                                                                                                                                                   After our performance, we will be setting up a huge drum circle and inviting people of all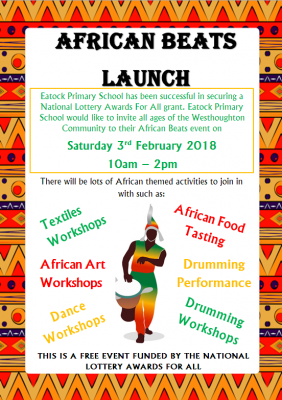 ages to come and join in with our uplifting, high energy African drumming and African dance workshops. Also on the day, there will be a whole selection of other activities including African Art, textiles and food tasting workshops, the even better news is that the event is totally free!
Eatock primary school has been awarded funding from the national lottery awards for all grant. With this funding the school has purchased 45 djembe drums and as well hosting the African beats launch event, will be running an eight-week after-school course aimed specifically at boys and their dads! Drumroots will be providing the tuition for the course and preparing the guys for a spectacular African drumming performance at the end.
We are really looking forward to the African beats launch event on the 3rd February and the after schools course and performance and can't wait to get rehearsing with the Lads and Dads!