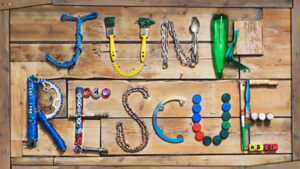 Giving African drums a new lease of life is one of our specialties, whether the drum just needs a new skin or a full overhaul there is no job too big or too small which is why we were a perfect choice to star in an episode of CBeebies' "Junk Rescue", a show designed to encourage children to upcycle "junk" into useful or fun things.
---
Drumroots was asked to teach presenter, Danny Sebastian (originally from Bargain Hunt), how to completely refurbish an old Djembe drum. In only a few hours we took off all the old rope, sanded and oiled the wood revealing the gorgeous grain, roped it up and mounted the synthetic head.
Although we would have preferred to use a regular goatskin, one of the requirements of the program was that we didn't use animal skin. After mounting and tunning the head I added a little paint and some decorative beads to spruce it up a little and it was ready to show the kids in the studio. We had so much fun hanging out with Danny and the crew. You can see before and after photos below or you can watch the full episode on BBC iPlayer here. Enjoy!
---