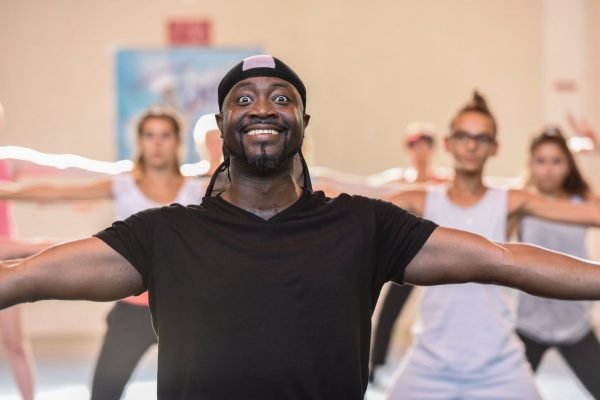 Time: 1.30-3pm
Venue: Birch Community Centre, Brighton Grove, Rusholme, Manchester M14 5JT
Booking: To book your place call: 07519 470794
Louis is a fantastic teacher. He breaks the routines down into easy-to-follow steps, so even complete dance novices can have a go, but also provides a level of challenge for more experienced dancers. His positive energy is infectious and will leave you buzzing at the end of each session! Generally, the class is a real mix of ages, experience & cultures and is a very warm and welcoming community to all.
Date: Every Saturday from 16th October 2021
Please read the Covid guidelines (see below) before attending.
Covid Guidelines – West African Dance Class with Louis Pierre Yonsian• Current Government guidelines surrounding COVID-19 must be adhered to when in the building or its grounds• If you or anyone in your group are experiencing symptoms of COVID-19, please do not enter the building.• If you or anyone in your group experience symptoms of COVID-19 within two weeks of entering the Birch Community Centre, please inform us immediately.• If we become aware of a localised outbreak, we will inform everyone who attended the class• Please ensure you and all your group, write your contact details on our Track and Trace form, when entering the building.• Please use hand sanitizer provided upon entering and exiting the building.• Please wash your hands more frequently when in the buildings. Please ensure you wash your hands thoroughly and for at least 20 seconds.• Please use the one-way system when in the building and its grounds.• Please maintain social distancing within the building and its grounds.• Please bring your own drinking water and face covering. Our control measures• Teacher and musicians will keep a minimum 2m distance from participants.• Floor markers are provided to help you keep a 2m distance• Dance activity will be largely 'on the spot' with no travelling• The teacher will avoid shouting and speaking at a loud volume i.e. not speaking at the same time as drumming.• Any singing will be kept to a minimum and will be at a low to moderate volume• Doors and windows will remain open to provide ventilation