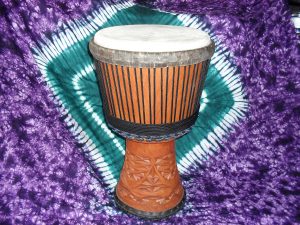 Fed up with cheap tourist style drums commonly found here in the UK? Drumroots are proud to present our new range of top quality professional djembes. We at Drumroots decided it was time to source and build djembes that are of the highest standard.
It has taken our team over a year to hand pick these hardwood Lenke shells, have them intricately carved with beautiful designs, transport them and finally have them completed here with fitted rings, custom made rope and the finest goat skins. And it has been worth all the time and effort as we now have a full batch of professional Guinea djembes that are unmatched in sound and aesthetics.

If you are interested in purchasing one of our custom drums of the highest quality, please get in touch.