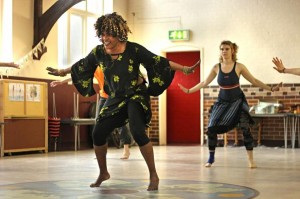 As part of our 10th birthday celebration we would like to offer a very special workshop with our friend Jokeh Sillah. A world class artist who has choreographed many West African performance troupes. Jokeh has a wealth of choreography knowledge and can work wonders with a group of students. Her workshops, which will be supported by drummers from Tanante are always welcoming and encouraging yet fast paced, inspiring and exciting! Don't hesitate to book your tickets for the gig to see what surprises she has up her sleeve for the evening performance...
Date- 16th April 2016
Time- 2-4pm
Location- Achieve fitness, New Islington Mill, Regent trading Estate, Oldfield Road, Salford, M5 4DE
Price: £15 (£14 consessions)
To book your place drop us an email at: [email protected]
Or give us a call on: 0161 408 5270
***Workshop places are available through advanced bookings only***
Also on Saturday 16th April 2016 (click the link):
Drumroots 10th Birthday Celebration Evening Concert
Drumroots 10th Birthday Celebration Djembe Workshop with Iya Sako
"Jokeh Sillah is a Gambian Dance Artist internationally recognised for her knowledge and inspirational teaching techniques of traditional West African Manding Dance. Her entire life has been dedicated to music and dance with a particularly great understanding of West African Culture.
In 1996 Jokeh travelled to The United States with The Gambian National Troop performing and teaching Djembe, Sabar Wolof and Jola Dance to enthusiastic students from many States. Jokeh's teaching of West African traditional and modern dance styles has encouraged students from Europe, The US and Scandinavia. In 2002 Jokeh began performing and playing an influential role with Sankandi (the present official Gambian DanceTroop). Later during the same year Jokeh was invited by Jaliba Kouyate to choreograph all dance movements and star for the video release in his collaboration with Mamanding Kuyate And Badinya Group
Since 2003 Jokeh has been based in Manchester and co founded Santa Yalla Arts. Jokeh is Artistic Director and Principal African Dancer providing performances,educational programmes, workshops and private tuition."