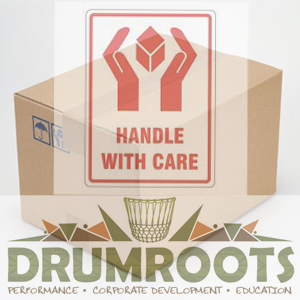 If you're not based near us in Manchester or in the North-West, you can still make use of Drumroots top quality drum repair service, find some of the best quality djembes available and source spares for your drums.
Repair
If you've a drum that needs repairing send it to us via courier, and we'll carefully assess what work needs doing and call you with advise with a quote or pricing options. Repairs take an average of one to two weeks to turn around from when we receive them, to be returned by courier. To read more about our repair service, visit our
'repairs and skinning'
page.
New Djembes
We stock a wide range of djembes to suit different levels, if you're interested in a new djembe, give us a call and we'll advise you of our range and of the best instrument for you. We can send images and even recordings of the drums unique sounds before you make you decision, after which the drum can be sent out by courier for you to receive the very next day within the UK, or within a week internationally worldwide. For a brief overview of some of the drums we stock, have a look at our
'drums for sale'
page
Drum Spares
If you'd prefer to re-skin or repair your own djembe but don't have all you need, we can supply top quality hairless goat skins from Guinea Conakry and professional djembe specific rope. Give us a call and let us know what you're after and we'll send it out.