Monthly Archives:
September 2014

The Drumroots team recently enjoyed a day leading African drumming workshops at the wonderful
Clifton primary school
. We started the day with an interactive performance for the whole school, encouraging the audience to join in with singing and clapping. We then proceeded to work our way through each class starting with the very young children in reception.
(more…)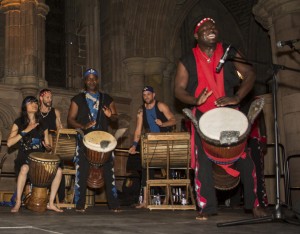 Have you ever wondered what it would be like to experience the power of West African drumming from within one of the country's most sacred and resonant spaces? Well, on 26
th
September
Tanante
will be connecting music from the tribal communities of West Africa with the awesome acoustics of one of the North East's most spectacular landmarks;
Hexham Abbey.
(more…)