Tag Archives:
Royal Northern College of Music

As part of a national initiative to produce guidance and a resource to support new primary school music teachers, Drumroots were invited by the Manchester Metropolitan University to provide teaching technique and advice as part of their contribution to a collaborative project between Universities throughout the country. Our contribution to this project was to represent 'Diversity'. Our music form is not not only 'alternative', but the methods and style of music education we provide are well outside the structure of what is used in mainstream curriculum, and we use a range of alternative techniques which we have developed in order to release musical potential in children and young people.
(more…)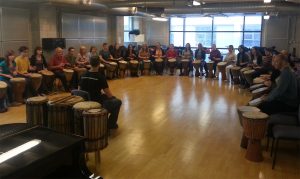 One of our regular and much valued clients, Nordoff Robbins invited us back to deliver an African drumming workshop and training session for their students. Nordoff Robbins are a charity based organisation who specialise in music therapy in order to make a positive difference to vulnerable children and adults.
We have been selected to work with Nordoff Robbins regularly due to our extensive experience in working with people from challenging backgrounds, those with special needs and those to who would really benefit from the therapeutic qualities of playing music. (more…)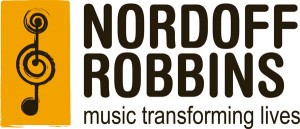 We at Drumroots were lucky enough to work with eight musically talented pupils on their masters degree training course with Nordoff Robbins. This mixed group were not only great musicians but great fun to be around. Over the course of four separate two hour sessions held in the Royal Northern College of Music studios we taught, as well as games and exercises, a number of different traditional rhythms with accompaniments, breaks, solos, songs and dun-dun bass lines. This developed their West African drum playing skills to a high level whilst teaching drum circle leadership. (more…)