Tag Archives:
Kontaani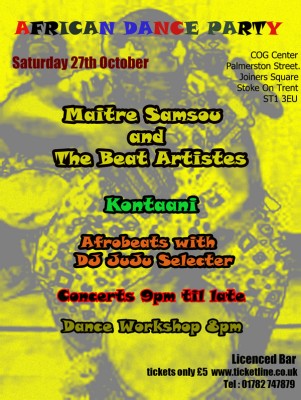 The Beat Artistes are back! With our African Drumming Master Samsou, we've been working hard over the summer in preparation for this event. Our new set raises the bar with heavy African rhythms, polished arrangements and choreographed dance moves. We're really looking forward to taking this practice public, and what better place to do it than at a happening new
African Dance Party
event. Joining us for the event and on the bill will be the outstanding African Drumming troupe,
Kontaani
. This hard working collective from Macclesfield are incredible to watch and perform with awesome energy and good vibes. There will also be an early evening dance workshop to kick things off and later on DJ's playing a range of quality African dance music. Just to wet your appetite, here's a video of one of the Beat Artistes, featuring
Iya Sako
, recent performances at Manchester's Parklife festival. Watch the video then read on for details of the African Dance party, we'll see you there!
(more…)