Tag Archives:
Nando's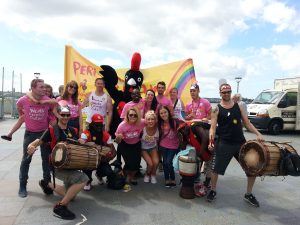 The Drumroots performance team with friends and guest artists recently enjoyed a succession of fantastic gigs at this summer's Pride festivals across the country. Once again working for
Nando's
we have so far been a part of Pride parades in Blackpool, Newcastle, Liverpool and Leeds. For these events we take to the streets carrying our drums for high energy walking performance to bring joy, rhythm and movement to the crowds of thousands joining in the carnival, and yet more as entertained bystanders. Accompanied by the enthusiastic Nandos staff bearing masks and banners, as well as a dancing chicken, we make quite a spectacle of ourselves as we get involved in the festivities.
(more…)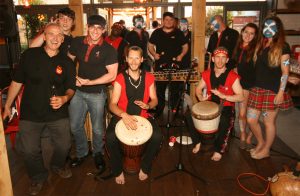 As part of our on-going working relationship with the Nando's family, we were recently invited to perform at their staff only event; The Nando's Grill Off. The event was the national final of a competition where by teams of Nando's staff compete with their colleagues from other restaurant branches to cook the very best grilled chicken. It seems to us that the Nando's staff really know how to have a good time! As they arrived, they all seemed in the mood for a fun evening, turning up with costume, props and even chants to support their own branch and designated cook who was to represent them on the grill. The prize was to travel to Sydney, Australia to complete in the Nando's international Grill Off!
(more…)
Tanante were recently invited to perform at the birdcage in Manchester city centre for the Nando's Christmas party. The famous chicken restaurant chain
Nando's
held its staff Christmas party at the
Birdcage venue
in Manchester city centre. Nando's employees from all over the North West enjoyed an African safari themed fancy dress party with stilt walkers, African acrobats and of course the West African drumming sounds of our very own band
Tanante
. 
(more…)